Top 6 Podcasts for Business Owners and Marketers
I'm addicted to podcasts. It's true! I'll happily listen to them any chance I get, whether it's walking, driving, making dinner or folding laundry.
I listen to a wide variety of podcasts (with a slight bias towards movie reviews and comedy), I have a number of business podcasts in my regular rotation.
In this post, let me recommend a few of them to you.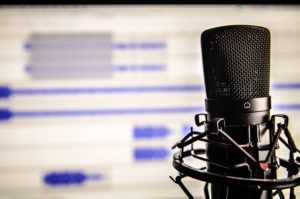 My Top Business Podcast Recommendations
1. How I Built This with Guy Raz
How I Built This host Guy Raz gets into the stories behind some of the world's best known brands. He interviews a different entrepreneur each week to explore the real-life experiences of founders behind companies like Five Guys, Kate Spade, and AOL.
Produced by NPR.
2. The Pitch
Fans of Dragon's Den and Shark Tank will like this one! Each episode of The Pitch features a live pitch from an entrepreneur to potential investors…and continues the story with what happens after everyone walks out of the room.
Produced by Gimlet Media.
3. StartUp
StartUp uses documentary storytelling to uncover what it's really like to create and launch a startup business. It's first season has been adapted into the ABC sitcom Alex.
Produced by Gimlet Media.
4. StartUp Canada
Not affiliated with Gimlet Media's StartUp. StartUp Canada host Rivers Corbett speaks with the movers and shakers of Canada's entrepreneurship community to share insights and talk about the future of business in Canada.
Produced by StartUp Canada.
5. Planet Money
Planet Money keeps you up to date on the fiscal world. Many of the topics are U.S.  focused but of interest to everyone. Combine with The Indicator to get daily downloads.
Produced by NPR.
6. Under the Influence
In Under the Influence, host Terry O'Reilly explores the world of advertising (or as they like to say, it's "a show about life through the lens of advertising"). It's also about creativity. Highly engaging storytelling.
To learn more about Terry O'Reilly, check out this post about a 2017 live marketing event.
Produced by the CBC.
Two Non-Business Podcast Recommendations
I couldn't leave this topic without mentioning a couple of non-business podcast favourites. My top two picks are:
1. The Daily
The Daily should be at the top of your list. Produced by the New York Times and hosted by Michael Barbaro. A constant reminder of the value of high quality news reporting.
2. Stop Podcasting Yourself
Stop Podcasting Yourself is a comedy podcast hosted by two Vancouver-based comedians. Graham Clark and Dave Shumka chat about mundane subjects with other comedians  (e.g. "What's up with you?" and "Overheards") that are frequently hilarious.
Generally reasonably clean but will sometimes vary depending on the guest that week.
Give Podcasts a Try!
The easiest way to listen to podcasts on the go is through your mobile device. If you're using Apple, you can use the Apple Podcast app.
If you're on Android, you can choose from a variety of podcast apps in the Google Play store.
Once you have the app, download a podcast episode or two and give them a try. When you find one that you like, subscribe to get automatic downloads of new episodes.
And if you're like me, you may quickly find yourself addicted!